PT. Balinusa Windumas is a company that focuses on modernization of its facilities and uses high technology machines in order to meet its production targets, to achieve its mission, and to produce high quality products based on international standards.
Laboratory
High Technology
Our system and technology was developed with high quality standard, making it a pioneer in this field of business. We have improved its function and dependability with several series of upgrades. The basic functions of the system are to manage detailed customer orders and to control the complete production process from fish processing to shipping. Another aim is the quick shipment of high-quality products created in line with our thorough safety measures.
Water Filter & Ozone System
(Sand Filter, Water Softener, Water Purifier)
Furthermore, with the installation of this system, we automated our processing line, which enabled us to process fillets to meet greater demand. One of the characteristics of this line is the ability to process a greater amount of fillets made from fish by size both precisely and quickly. Use of this automated system has also contributed to our thorough safety and hygienic measures, since we are largely able to complete production without human hands coming into contact with the fish.
Our Manufacturing Process
High Tech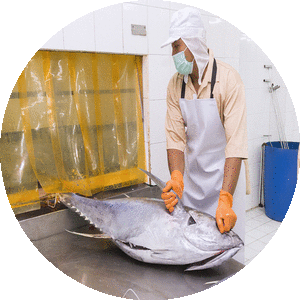 Receiving
After we receive fresh raw material from fishermen, they are temporarily stored in chiling room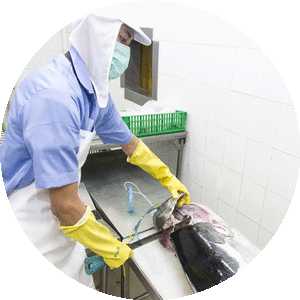 Head Removal & Washing
The graded product is then headed and tailed in a manually hand cut. The removal of veins and internal organs is completed and each fish is washed using a sterilizing ozone-treated water.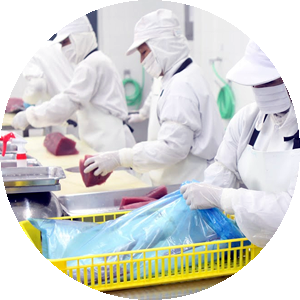 Filleting & Cold Storage
The fish then enter the filleting line where they are filleted at up to 1000 fish per day. Once off the line, the products go straight into a chilling room, freezer, and keep into cold storage with a standard temperature.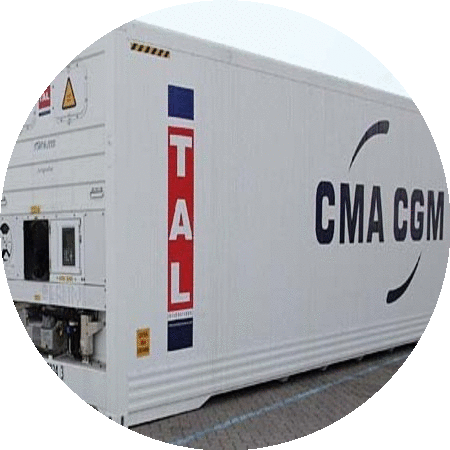 Shipping & Transport
The product is then ready to leave for the seaport in a reefer container to ensure the viability of the cold-chain all the way through the production system.
Want to know more about us?
Call us at +62 361 722688, +62 361 722091 or find us on:
---
About us
PT. Balinusa Windumas operates an integrated fishing business that provides services such as base operations, logistics, and processing and marketing of tuna and seafood products to customers in the South Pacific, Japan, U.S.A and Europe.
Our address
Office & Factory
Jl. Ikan Tuna II Pelabuhan Benoa, Denpasar, Bali 80222, Indonesia.
Phone: +62 361 722688, 722091
Administrative Office
Jl. Ikan Tuna II Pelabuhan Benoa, Denpasar, Bali 80222, Indonesia.
Phone: +62 361 722688, 722091.